Thur 31.10.2019
Doors from 19:30, Film at 20:00
Screening will start on time
Free admission!
Free popcorn!
TOP · Schillerpromenade 4 · Berlin 12049
Halloween Edition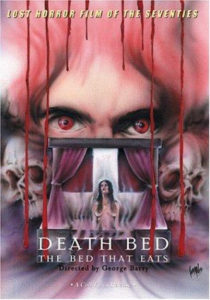 Here comes the Halloween edition of the Trash Palace with a little known, much loved horror film. It's 1977's Death Bed: The Bed That Eats. Directed by George Barry, known for films such as … well, Death Bed: The Bed That Eats.
This film was for years only available on VHS as a pirated version, unbeknownst to Mr. Barry, and it became an underground cult film in the UK and Spain. Its first US theatrical release was not until 2003.
From one reviewer – "A major classic in the what-were-they-thinking-school of horror."
Free admission!
Free popcorn!
*Please send a quick RSVP email to trashpalaceberlin [at] gmail [dot] com if you are planning to be at the screening – last minute guests still welcome!