>top Association for the Promotion of Cultural Practice has been operating in Berlin since June 2002. Our members are artists, researchers and activists, whose activities range from individual research to curating project space to international collaboration. Our infrastructure supports projects that pursue an interdisciplinary approach, support international exchange or deal with experimental attitudes. This includes, but is not limited to, a project space, a biolab, and a web server.
We support and develop ideas merging politics, environment, economics, and technologies. We work mainly in the domain that addresses the humanization of digital technologies through the interplay between digital, biological and cultural. We support collaborative projects that seek a dialog and diversity in artistic forms and attitudes.
Der Verein >top – für die Förderung kultureller Praxis ist seit 2002 in Berlin tätig. Wir Mitglieder sind Künstler, Forscher und Aktivisten und beschäftigen uns mit individuellen Fragestellungen sowie mit projektraumbezogener kuratorischer Praxis und internationalen Kooperationen. Wir unterstützen interdisziplinär angelegte Projekte, fördern Austausch auf internationaler Ebene in experimentellen Zusammenhängen und beziehen dabei, neben den Projektraum, das Biolab und den Webserver.
Die Projektideen, die wir seit vielen Jahren in Berlin und international verwirklichen, berühren politische, ökonomische und technologische Themen. So arbeiten wir unter anderem im postdigitalen Kontext – mit künstlerischen Formen und Herangehensweisen, die durch das Wechselspiel von Digitalität, Organik und Kultur auf die Humanisierung digitaler Technologien verweisen. Wir unterstützen Projektkooperationen, die den Dialog und die Diversität künstlerischer Formen und Haltungen befördern. Damit leisten wir einen Beitrag zur Entwicklung der Zivilgesellschaft.
Active Members
Tristen Bakker (editor, documentarian and musician)
Onur Ceritoğlu
Juan Pablo Diaz (cultural worker)
Tuce Erel (curator)
Mindaugas Gapševičius (artist, PhD candidate)
Kim Dotty Hachmann (artist)
Melissa Harrison (architect, PhD candidate)
Puneet Kishor
Yelta Köm (architect/artist)
Veiko Liis (designer)
Elizabeth McTernan (artist)
Penka Mincheva (artist)
Katharina Moebus (designer, PhD candidate)
Hyui Ines Rmi, (industrial design, sound artist)
Matthias Roth (artist)
Ian Erik Stewart (PhD candidate in Neurobiology)
Başak Tüsüz (architect, cultural manager)
Alessandro Volpato (biologist)
Ricarda Wallhäuser (artist)
Martin Wrede (artist, designer)
Lukas Gabriel (B.Sc. candidate in Biotechnologie)
Grayson Bailey (architectural researcher / theorist)
Christina Sarli (artist)
Sara Reichert
Mario Behling
Umut Azad Akkel
Former Members
Mirela Alistar (scientist, currently postdoc)
Karsten Asshauer
Felipe Castelblanco (artist, currently phd)
Ekmel Ertan (cultural manager)
Marc Geist
Philipp Hennevogl
Pablo Hermann
Christiane Hütter (artist)
Horst Krause
Elena Lochore-Ward (architect, curator)
Barbara Lück
Christine Lohr
Persefoni Myrtsou
Dirk Paesmans
Rena Rädle
Axel Daniel Reinert (artist)
Matze Schmidt
Ayşegül Seyhan
Birthe Zimmermann
Registered domicile / Vereinssitz:
TOP e. V.
Stockholmerstr. 30, 2. Aufg.
13359 Berlin
Deutschland / Germany
Project space / Projektraum:
TOP project space
Schätzelbergstr 1-3, 12099 Berlin /
Entrance through the back side of the house: Industriestrasse 38, 12099 Berlin

How to get there: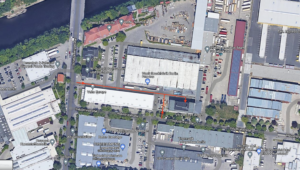 Email: top [at] top-ev [dot] de
Council of the association / Vertretungsberechtigter Vorstand:
1. Vorsitzender: Mindaugas Gapševičius (Anschrift wie oben)
2. Vorsitzender: Juan Pablo Díaz
– – –
3. Kassenwart: Matthias Roth
4. Schriftführerin: Kim Dotty Hachmann
Assessors of the council / Beisitzer des Vorstands:
Martin Wrede, Persefoni Myrtsou
Register of associations number / Vereinsregister-Nummer: VR 22011 B
Registry court / Registergericht: Amtsgericht Charlottenburg, Amtsgerichtsplatz 1, 14057 Berlin
Local court / Gerichtsstand: Berlin, Deutschland
Banking + donation account / Bankverbindung + Spendenkonto:
Account number / Konto-Nummer: 4746147
BLZ: 66090800
IBAN: DE76 6609 0800 0004 7461 47
BIC: GENODE61BBB
BBBank
Spenden bis 50 EUR
Für Spenden bis zu einem Betrag von 50 EUR wird es aus Vereinfachungsgründen zugelassen, dass anstelle einer vom Verein ausgestellten Zuwendungsbestätigung der Bareinzahlungsbeleg oder die Buchungsbestätigung eines Kreditinstituts (zum Beispiel ein Kontoauszug) vorgelegt wird.
Tax-account-number / Steuernummer: 27/678/50664
Tax office / Finanzamt: Finanzamt für Körperschaften I, Bredtschneiderstr. 5, 14057 Berlin
Constitution (in German) / Satzung: top ev – Satzung – PDF